Good morning and Happy Monday! It has been 17 days since our last update on the Paycheck Protection Program and more recently for the Provider Relief Fund. We put out an update on the first day the program opened up (4/3/10) and here we are a few weeks later and it looks like the first round of money allocated to the PPP may have already been paid or at least already approved and allocated.
Throughout this crisis Nexsys Billing & Practice Management has tried to be a source of timely and relevant information to support the Independent Physician Practices so that they can better support and provide care to the patients who depend on them. We see it as Productivity with a Purpose. In keeping with that purpose, we are providing the latest update and what we are seeing.
It looks like all of the "approved loans" are being counted as money that is either disbursed or allocated. So if you don't have a loan approval or a loan number or of course money in your account, it is likely the money allotted to your bank ran out before you could get an approval. This also means that you likely missed out on this round, as did many of our clients. If you have a loan number or an approval then it appears you are in better shape. I don't have official confirmation of this yet, as any communication from the banks or SBA is hard to come by, I am just looking at the data and trying to read the tea leaves here.
If we find out anything from the Banks or hear anything different we will of course update you. So keep an eye on your inbox. If you have colleagues who would like this information, please forward this on to them and have them reply to me to be added to future correspondence.
What we are seeing from the reporting that is being provided by the SBA, is what we are sharing here. In order for the SBA to calculate these numbers and report on them, they had to be approved loans and that does not leave anyone else left to be "approved", at least not in this round.
If you did get an approved loan, please reply back to me with your Bank of Choice for the loan. We have not seen any Bank of America approvals yet, which is not to say there have not been any, we just have not heard of any yet, but they had the most applications too. Bank of America had approximately 346,000 applications, more than any other bank. We have heard about loan approvals and funding for some other Banks, just not Bank of America yet.
There is also talk of revising the rules of the PPP as larger physician practices with more than one location but with 500 employees or fewer per location are currently ineligible for the PPP. There also a handful of class action lawsuits popping up around the country targeting many of the lenders for selecting their better customers first and denying other businesses who came to them.
Currently only about 11.5% of the allotted funds went to Healthcare and Social Assistance. See the graphics below from the SBA for the latest updates.
Here is the data from the SBA as of 4/16/20

Avg. Loan amounts and amount already approved: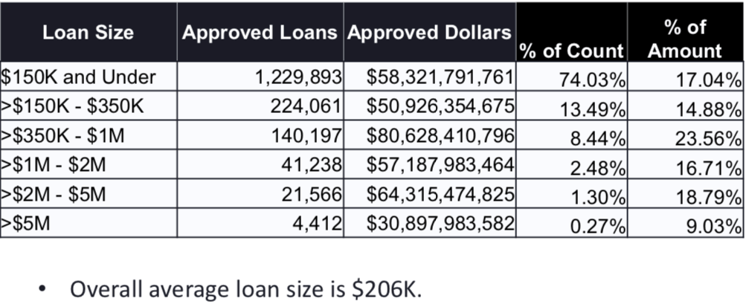 Which Sectors Received the Funds: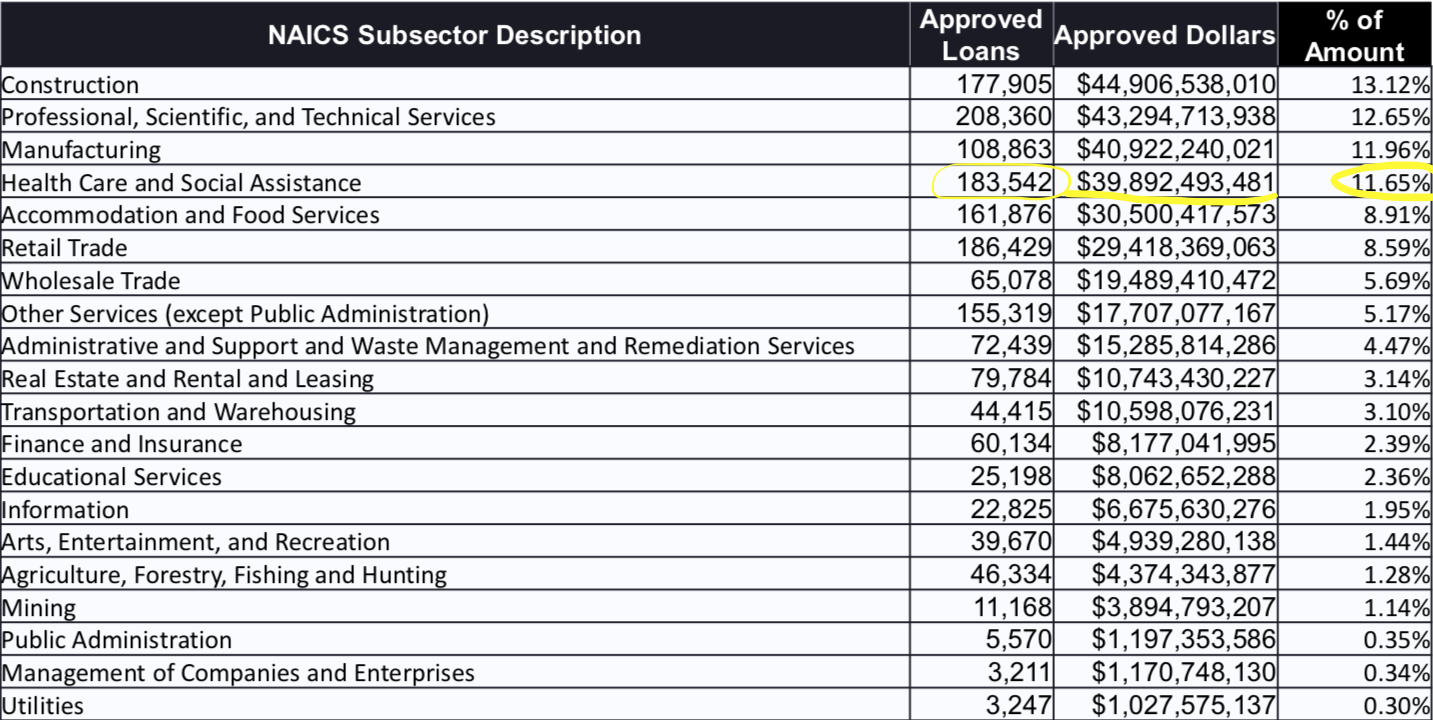 Provider Relief Fund:
Many of our clients have received their Provider Relief Funds and as you may already know, the funds were allocated in the first round for Medicare Providers and funds starting hitting their accounts back on the 10th and are still continuing to trickle in. If you did receive funds already you have 30 days to Attest, so please follow this link.
Getting the first round out as fast as possible was a priority, Verma said, and "using Medicare reimbursement was the fastest way because we have that data."
This week's funding round looks at "providers across the board, whether they serve Medicare patients, Medicaid or private insurers, to make sure that all providers across the country are addressed," Verma said. We still don't have any updates on how they are going to identify these doctors and how to handle clinics that have multi specialty with some providers enrolled in Medicare and others focusing on Pediatrics and therefore not Medicare. As we get more information about this next round of Provider Relief Funding and how they are calculating payments for Non-Medicare providers, we will update you.
Hopefully you are finding these updates helpful and I am sure you are getting great information from your Academies and colleagues as well, but right now, the more communication and information we can get out there, the better everyone can plan for their future cash flow requirements. There are also some great articles and resources at our website so check there as well.
Regards,
Jeff Robertson, CMPE
President/CEO
Nexsys Billing & Practice Management