A passion for Healthcare is the best way to describe Jeff Robertson. He has a unique, varied and extensive background in Healthcare that covers a wide array of experience encompassing 30 years. Jeff is board certified by the MGMA as a Medical Practice Executive and is a proud active member of MGMA. Jeff is also an active member of the Healthcare Business Management Association (HBMA) and continues to keep his knowledge current and focused on future trends and initiatives and how they affect our clients and their Clinic. Jeff has been actively running the Revenue Cycle Management and Practice Management divisions since 1997. Jeff Robertson has spent over 25 of the last 30 years in Independent Physician Clinics with a special focus on Medical Billing/Revenue Cycle Management, Healthcare IT, Clinical Workflow Analysis and Bookkeeping and Financials for Independent Medical Practices. His passion and love of teaching, consulting and finding a better, more efficient way to build processes into a clinic has led to him being labeled the "Practice Fixer".
To date, he has installed, configured, trained and consulted over 400 Independent Physician Clinics across the country and has learned valuable lessons from each of them to share with all of future clients.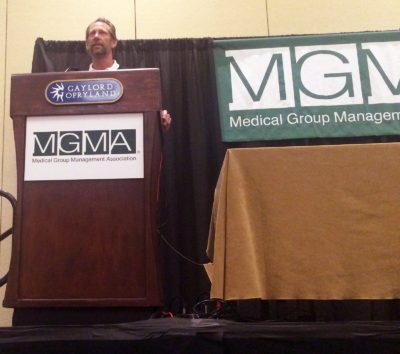 Other Healthcare Experience
Jeff gained extremely valuable experience and knowledge providing Long Term/Post Acute Care Consulting for Woundcare and Therapy Support Surfaces for Nursing Homes throughout the Western United States. Jeff Co-Founded one of the largest Specialty DME companies in the country and sold his interest to focus on Healthcare Technology and Revenue Cycle Management. Jeff was a disciple of Dr. Charlie Koo, a PhD in Process Engineering from Stanford university and helped launch an early EMR solution in 1999. That company, iMedica was later bought, and today is the EHR Aprima. Striving for efficiency and building processes and protocols that yield greater results continues to be a passion and the driving force behind Nexsys Billing & Practice Management.
Jeff is a graduate of the University of Arizona with a BA in finance and a second-generation healthcare professional. In his free time he enjoys spending time with is wife and two young daughters, traveling and exploring other cultures and on weekends you can find him playing Beach Volleyball or attending his girls activities.